Thomas Edward Wright 1867-1943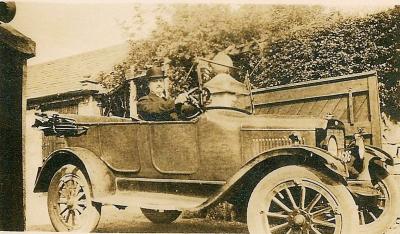 Thomas Edward Wright was born at Bradbourne in Derbyshire on 13 February 1867, the son of William Wright 1826-1904 and his wife née Sarah Anne Redfern 1834-1904. He was baptised at Bradbourne on 24 February 1867. He was known in the family as Ted.

When the Census was taken in 1891 he was working with his father and brother Frank Wright at Town Farm in Bradbourne.

He was still working with his father in 1901, but was then recorded at Park Gate in Bradbourne (1).

After his father died in 1904 he continued farming at Park Gate, and was there when Nat Gould was writing his autobiography The Magic of Sport in about 1908. He recounts how his eldest son Sidney Nathaniel Gould was then working for Thomas Edward Wright at Park Gate, just as he himself had done at Haven Grange in the 1870s (2). With him at Park Gate was his unmarried sister Helen Wright in 1910 (3) and when the Census was taken in 1911.

On a an early type of tractor at Kniveton
Later he moved to live at the Vicarage in nearby Kniveton in Derbyshire. There he became a major landowner, and owned one of the earliest cars in the district (4).

He was a member of the Ashbourne Rural District Council for Bradbourne and Ballidon (elected 1907) for thirty six years, and a member of the Ashbourne Board of Guardians until it ceased to function in 1930, serving also on the Ashbourne Joint Hospital Board and the Old Age Pensions Committee. He was school correspondent and a manager of Kniveton School and a manager of Bradbourne School; and a vice- president of the Ashbourne Shire Horse Society (5).

Thomas Edward Wright died on 28 June 1943 at Kniveton Vicarage aged 76 years (6). He was unmarried.
He was buried on 1 July 1943 at Bradbourne, where there is a gravestone inscribed to his memory.

His Will was proved on 24 September 1943 (7).

"He left Haven Cottage and garden in Bradbourne with £150 to Wilfrid Ratcliffe if still in his service; £450 and his motor car to his housekeeper Grace E. Marple similarly; £50 similarly to Florence Sellars, maid; £50 to servants of three years' service, and £50 each to three persons formerly in his employ; £50 to Elizabeth Beard, schoolteacher; £100 to Bradbourne Church, and £100 upon trust for the upkeep of the graveyard and graves; £100 each to Kniveton Church and Ashbourne Victoria Memorial Cottage Hospital; £2,000 each to Evelyn, Charles and Kenneth, children of his brother Frank; £150 to his brother Arthur; £250 to Anthony H. Thomas; £100 to Hope Lowe; and the residue to his sisters Mary and Helen, and his brothers William, Frank, and Arthur.
Probate has been granted to his brother, Arthur Wright, of The Avenue, Bakewell, and Anthony H. Thomas, of Ashbourne." (8) Wilfred Ratcliffe was his chauffeur. Anthony Hugh Thomas was the husband of his first cousin Amy Gould Thomas née Wright, a daughter of his uncle Frank Wright 1842-1913 and his first wife Mary Jane Smith 1845-1883.


Notes and References
(1) Park Gate is probably a different farm from Town Head. The recorded names of Bradbourne farms changed from time to time. Park Gate was formerly called Clapgate. Town Farm (actually Upper Town Farm) is probably the same as Haven Grange.
The two Wright farms have been identified on Ordnance Survey maps between 1880 and 1924 as follows:
1880 Clapgate Upper Town Farm (probably but indistinct)
1884 Clapgate Upper Town Farm
1899 Clapgate Upper Town Farm
1900 Clapgate Upper Town Farm
1922 Unnamed Haven Grange (probably but indistinct)
1924 Park Gate Haven Grange
In Census Returns Haven Grange Farm was listed in 1841 and 1851 only under the general Bradbourne heading; and in 1861 and 1881 only under Main Street, Bradbourne. In 1871 it was listed as Upper Town Farm, Main Street, Bradbourne. In 1891 it was recorded as Town Farm, Bradbourne. Kelly's directory of 1887 has Wrights at AVON Grange Farm in Bradbourne, but that must be a misspelling.
(2) "The old farms are still carried on by my Cousin Frank at Haven Grange, and my Cousin Edward Wright at Park Gate. Strange to say, my eldest son is farming with my Cousin Edward, as I did with his father in the long ago". The Magic of Sport page 211.
(3) Derbyshire Advertiser 15 October 1910. At the end of her life Helen Wright 1861-1945 was living at Highcroft, Windmill Lane in Ashbourne and died on 26 November 1945: Ashbourne News 6 December 1945.
(4) He is reputed to have been a bad driver, bumping into walls going down the village street, and so he decided to employ Wilfred Ratcliffe of Kniveton as his chauffeur.
(5) Ashbourne News 1 July 1943.
(6) Derby Daily Telegraph 29 June 1943.
(7) "WRIGHT Thomas Edward of The Vicarage Kniveton Derbyshire died 28 June 1943 Probate Llandudno to Arthur Wright retired draper and Anthony Hugh Thomas clerk to local authority. Effects £27625 13s 3d. Resworn £14222 3s 3d." England & Wales, National Probate Calendar (Index of Wills and Administrations) 1858-1966 (1943) page 496.
The Principal Probate Registry in London was evacuated to Llandudno in north Wales during the Second World War.
(8) Derby Daily Telegraph 14 October 1943.

---