Frank Wright 1869-1954
Frank Wright was born on 16 July 1869 in Bradbourne in Derbyshire, the son of William Wright 1826-1904 of Bradbourne and his wife nee Sarah Anne Redfern 1834-1904.

He married Mary Ellen Adams in 1897. She was the daughter of John Charles Adams 1842-1910 and his wife nee Ellen Porter, and was born on 11 November 1873 at Atlow in Derbyshire,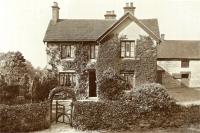 Park Gate Farm 1908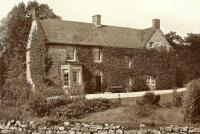 Haven Grange Farm 1908
Frank Wright had been farming at Haven Grange Farm in Bradbourne from at least 1891. When the 1901 Census was taken they were living at Haven Grange Farm and were still there in 1908 (1).

However by 1911 they had moved to nearby Park Gate Farm (also called Clapp Gate Farm) in Bradbourne (2).

They had the following children:

Evelyn May Wright. She was born in 1898. She was married to Egerton Orme, who was born in 1895, and was employed in the corn trade with Rank Hovis McDougall at Alrewas, Staffordshire. She died in 1973 at Burton-on-Trent, Staffordshire.

Charles Frederick Wright. He was born on 20 September 1899. He was twice married. He was in the motor trade at Uttoxeter in Staffordshire. He died in 1981 aged 82 years, and was buried at Bradbourne.

Gertrude Alice Wright. She was born in 1902, and died in the same year and was buried at Bradbourne.

Kenneth William Wright. He was born on 6 March 1915, and was known as Peter. He was a town planner with Derbyshire County Council. He died in 1988 aged 73 years and was buried at Bradbourne.

Their mother Mary Ellen Wright died on 23 December 1952 at Spondon aged 79 years (3), and was buried at Bradbourne where there is a memorial gravestone.

Her husband Frank Wright died on 31 July 1954 aged 85 years, and was buried with his wife at Bradbourne.


References
(1) Frank Wright was still farming at Haven Grange in 1908 when Nat Gould was writing his autobiography The Magic of Sport. Nat Gould recounts how his eldest son Sidney Nathaniel Gould was then working at Park Gate with Nat's cousin Edward, just as he had done at Haven Grange in the 1870s.
(2) Later they lived at The Elms in Snelston, and The Red House at Sandybrook near Ashbourne in Derbyshire. He retired to The Knoll, Locko Park near Spondon in Derbyshire. Ashbourne News 12 August 1954. The Red House is actually white. Information of David Lowe.
(3) Ashbourne News 7 January 1953. The report states that she "was a Miss Adams of Kniveton before her marriage" and also that she and her husband had also farmed at Snelston and Kirk Ireton, both near Ashbourne. Her parents had moved to Petthills Farm in Kniveton by 1891. This reference to Kirk Ireton is incorrect. They also farmed at The Wheathills in Kirk Langley, Derbyshire.

---