Pilsbury Grange Letter 1
Letter 1 of the Letters from Pilsbury Grange is dated 4 November 1806, and was written by Richard Gould 1741-1820 to his son John Gould 1784-1814.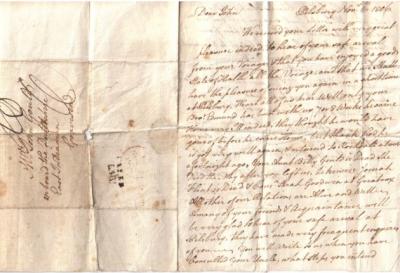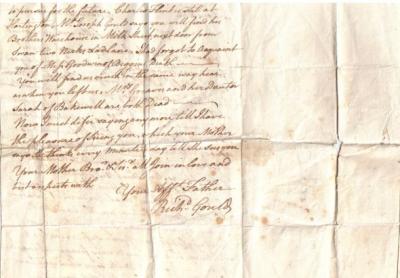 Transcription
Mr John Gould
Onboard the Dorsetshire
Eastindiaman
Gravesend

Dear John,/ Pilsbury, Nov 4th 1806

We received your letter with great pleasure indeed, to hear of your safe arrival from your voiage. That you have enjoyed a good state of health all the voiage, and that we shall have the pleasure of seeing you again in a short time at Pilsbury. We are all of us hear well only your bror. Edmund has been with us 7 or 8 weeks he came home very ill indeed, they thought he would have gone of before he came home, but thank God he is got very well again & returned to Rochdale about a fortnight ago. Your Aunt Betty Gould is dead she died the May after you left us, likewise Joshua Flint is dead & Cousin Sarah Goodwin at Greatrox. All other of your relations are alive and well. Many of your friends and acquaintances will be very glad to hear of your safe arrival at Pilsbury, they have made frequent enquiries of you. You will write to us when you have consulted your uncle, what steps you intend to pursue for the future, Charles Flint is still at Hartington, Mr Joseph Gould says you will find his Brothers Warehouse in Milk Street next door from Swan two nicks Lad lane. I had forgot to acquaint you of Mrs Goodwin's of Biggin death. You will find us in the same way hear as when you left us. Mrs Greaves and her daughter Sarah of Bakewell are both dead. Now I must defer saying any more till I have the pleasure of seeing you. Your mother, bror &Sisr all join in love and best respects with

Your affectionate Father

Richd Gould


Note
The writer Richard Gould of Pilsbury Grange was the grandfather of Richard Goodwin Gould 1822-1892, who preserved the letter.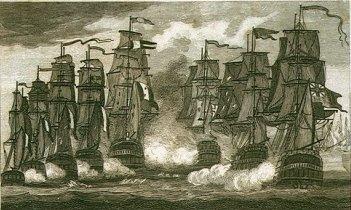 Battle of Pulo Aura 1804
The recipient John Gould was on board the East India Company's ship Dorsetshire, which had docked (or was shortly expected) at Gravesend in Kent. The vessel had a distinguished history. In February 1804, as part of a fleet of lightly armed East India Company merchant ships sailing from China with a valuable cargo (worth over £500 million in present-day money), she defeated French warships stationed at the entrance to the Malacca Straits in the Battle of Pulo Aura commanded by Sir Nathaniel Dance, a now almost forgotten hero.

In the letter Richard Gould refers to another son Edmund Gould 1782-1833, who had been recuperating at Pilsbury Grange from a serious illness, but by then had returned to his work at Rochdale in Lancashire with John Gilbert son of the canal builder John Gilbert 1724-1795. His father's cousin Richard Gould (son of Thomas Gould 1714-1794 of Hanson Grange, son of William Gould 1677-1772 and Anne Morewood 1679-1749) was a woollen merchant in Rochdale. Edmund Gould later succeeded his father as tenant at Pilsbury Grange.

Aunt Betty Gould was Elizabeth Gould 1749-1805, the unmarried sister of the writer. She died in May 1805, and was buried at Hartington on 18 May in that year. So John Gould must have left Pilsbury to go on his voyage on the Dorsetshire in the Spring of the year before the letter was written. This suggests that the voyage had been to India or even China.

Charles Flint 1789-1861 was born at The Old Vicarage in Hartington, the son of Cornelius Flint 1741-1822 who was the Mineral Agent of the Duke of Devonshire whose responsibilities included Ecton Copper Mine. Charles Flint was a surgeon and lived at Compton House in Leek, Staffordshire.

Cousin Sarah Goodwin of Great Rocks (in Wormhill parish in Derbyshire) was the daughter of Anthony Goodwin and his wife nee Hannah Gould 1701-1790, daughter of William Gould 1677-1772 and his wife nee Anne Morewood 1679-1749.

The proposed discussion with an uncle about the future career of John Gould (the youngest son of the family was perhaps to be with the writer's only brother William Gould, who was also living in Rochdale having married there.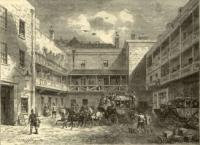 The Swan with Two Nicks Inn
Mr Joseph Gould was the tenant of the neighbouring Lower House at Pilsbury. He had been agent to the Duke of Devonshire for his Buxton estate until the first resident agent had been appointed there in 1805. He was the son of the diarist William Gould 1739-1795, agent to the Dukes of Devonshire and Portland. His brother William Gould was a Nottingham hosier who had a warehouse in Milk Street in London adjoining the Swan With Two Nicks inn.

Mrs Goodwin of Biggin, who had died, would be a relative of John Gould's mother formerly Mary Goodwin.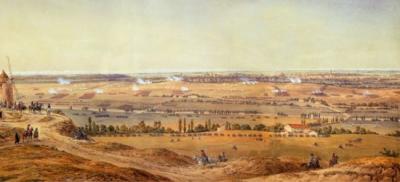 Battle of Toulouse 1814
The brothers mentioned at the end of the letter were Edmund Gould 1782-1833 and Richard Gould.

The sister was Thomasin Goodwin Gould who was later to marry Thomas Greensmith of Thorpe on 10 June 1812.

As for the later career of John Gould, he went on to serve in the army, but sadly lived for only another eight years. He died in April 1814 at the Battle of Toulouse in southern France, which allied forces were besieging.

Although Napoleon Bonaparte had already surrendered and the war was over, that news had not then reached Toulouse. And so John Gould, with hundreds of others, died tragically and unnecessarily in storming the city.

---