Hanson Grange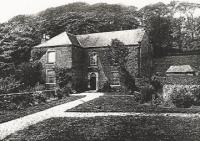 Hanson Grange in 1919
Hanson Grange, like granges at Pilsbury and Cronkston, had been a monastic sheep farm or bercary in medieval times. Hanson was a grange of the great abbey at Burton-on-Trent. After the monasteries were destroyed by Henry VIII it passed into secular ownership, and by the end of the next century it belonged to the Beresfords.

Francis Beresford died in 1690, and Hanson Grange was thereafter purchased by William Gould 1677-1772 of Pilsbury Grange for his son Thomas Gould 1714-1794 and the Gould family remained in possession there for nearly two centuries.

Thomas Gould of Hanson Grange was the eighth child of William Gould 1677-1772 and Anne his wife.

He married Elizabeth Cocks 1735-1818, the daughter of William Cocks of Champion near Duffield, and they had four sons and a daughter.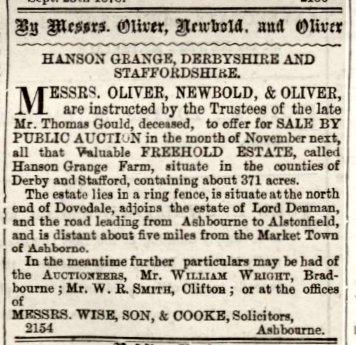 Hanson Grange Sale 1878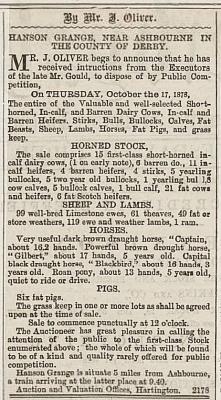 Their eldest son was William Gould, who succeeded his father at Hanson Grange. He was born on 16 September 1755 and died in 1845. He married Anne Richardson 1776-1819, the daughter of Francis Richardson of Milwich in Staffordshire. She died on 4 June 1819. They had three sons and three daughters.

Thomas Gould, their eldest son, was born in 1800 and died in 1878. He remained a bachelor, and when he died Hanson Grange was sold by his executors (1). The purchaser was Lord Hindlip, who retained it until 1919 when it was again sold as part of his Alsop Estate.

Although Hanson Grange passed out of the ownership of the Gould family in 1878, their connection with it continued for some years longer. Elizabeth Gould 1802-1843, the eldest sister of bachelor Thomas Gould, had married William Wright of Bradbourne in 1823, and they took on the tenancy. Her younger sisters Anne Gould and Catherine Gould also remained at Hanson Grange.

Both these younger sisters stayed unmarried. They moved to a house in Ashbourne that they renamed Hanson Mount when the Wright family returned to Bradbourne, and lived there to a great age.

The daughter of William and Elizabeth Wright was Mary Wright. She married her third cousin Nathaniel Gould 1824-1874. Their son was Nat Gould.


Reference
(1) The notices of the sale of Hanson Grange by the Executors of Thomas Gould are from the Derbyshire Times and Chesterfield Herald dated 9 October 1878. They provide a picture of a typical mixed pastoral farm in the limestone uplands of Derbyshire in the 1870s, when Nat Gould was working for his uncles at Pilsbury Grange and Bradbourne.

---