Richard Goodwin Gould 1822-1892
Richard Goodwin Gould was born at Pilsbury Grange on 2 May 1822, the son of Edmund Gould 1782-1833 of Pilsbury Grange and his wife née Margaret Peake 1783-1844. He was baptised at Hartington on 20 May 1822.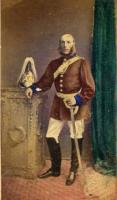 He joined the Life Guards in 1840 aged eighteen.

After serving for two years, he started work in 1842 in the drapery business of Messrs. Cooper & Batchelor of 113 New Bond Street in London, moving in 1847 to Morgan & Co. at 20 St Paul's Churchyard.

In 1848 he joined with his younger brother Nathaniel Gould 1824-1874 (the father of Nat Gould) to set up in business in Manchester as "Nathaniel Gould and His Brother, Teamen from London".

When the 1851 Census was taken, he was living unmarried as head of the household at 26 New Bridge Street in the city centre, together with his brother Nathaniel and sister Mary, three assistant tea dealers, two tea porters, an apprentice tea dealer, and a housemaid. (Nathaniel was erroneously recorded as "Matt".) Mary was presumably keeping house for her brothers and their staff, unless she was just visiting at that time.

Richard Goodwin Gould was bought out of the tea business by his brother in 1858 for £500. "It was Nathaniel who did the work and Dick who spent the money," Nat Gould records in The Magic of Sport, "for in some old account-books of my father's I found such entries as Dick, £50; Dick £100; Dick £200, and so on. Evidently he went the pace." (1).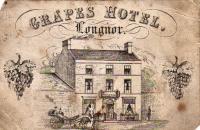 In 1858, while still living in Manchester, he was elected a member of the Bakewell Farmers' Club at a meeting held at the Rutland Arms in Bakewell on 6 October 1858 (2). His cousin Francis Richard Greensmith of Thorpe near Ashbourne in Derbyshire was also elected a member at that meeting. Back home at Pilsbury Grange in 1861 he was making a living as a "commission agent". Later he became the landlord of the "Grapes Hotel" in Longnor.

In 1873 he married Martha Wooddisse 1847-1922 in Manchester. She was born on 3 May 1847 at Hartington in Derbyshire, the daughter of John Wooddisse 1813-1894 and his wife née Susannah Hall 1818-1889.

They had the following children:

Ellen Gould 1872-1959. She was born in 1872 at Manchester. She was twice married, first in 1895 to Charles Henry Ridgway 1866-1916 and secondly in 1919 to John Wotherspoon 1869-1946. She died on 8 October 1959 at Buxton in Derbyshire.

Frederic Thomas Gould 1874-1956. He was born in 1874 at Hartington and died on 11 May 1956 at Longnor.

Richard Goodwin Gould 1877-1953. He was born on 15 May 1877 at Longnor. In 1912 he married Lizzie Madge Verryck 1891-1969. He had a distinguished career in the Royal Navy, and died in 1953 at Dunfermline in Scotland.

Margaret Mary Gould 1881-1970. She was born on 1 July 1881 at Longnor and died there unmarried on 15 November 1970. After her mother died in 1922 she managed the Crewe & Harpur Arms in Longnor, along with her brother Frederic Thomas Gould until 1952. They both had their own farms also.

Martha Gould 1886-1950. She was born on 3 October 1887 at Longnor, and died there on 7 June 1950.

John Gould 1889-1917. He was born in 1889 at Longnor, and was killed in action on 7 October 1917 at Passchendaele, Ypres in Belgium during the First World War.

Elizabeth Gould 1892-1977. She was born in 1892, and was married to James Howe in 1916. The Howe family owned a hat making business in Lancashire. James Howe died in 1922. They had three children including a son Richard Gould Howe 1917-1941, pilot sergeant in the 65th Squadron of the Royal Air Force, killed in action in 1941. Elizabeth Howe nee Gould died in 1977 at Stockport in Cheshire aged 85 years.

Their father Richard Goodwin Gould died on 15 April 1892, having outlived all his brothers and sisters, and was buried at Longnor.


References
The illustrations on this page have been kindly provided by Peter and Eileen Bentley.
(1) Locally in Hartington he was known as Dickey the Sinner. The Magic of Sport page 10.
(2) Derby Mercury dated 13 October 1858. Presumably this was in keeping with his wish to live a more rural life.

---