Gilbert Gould 1821-1891
Gilbert Gould was born at Pilsbury Grange on 5 March 1821, the son of Edmund Gould 1782-1833 of Pilsbury Grange and his wife nee Margaret Peake 1783-1844. He was baptised at Hartington on 11 May 1821.

He succeeded to the tenancy of Pilsbury Grange upon the death of his brother Edmund Gould 1817-1859 in 1859.

On 20 August 1862 he married Ellen Wright 1834-1904, the daughter of William Wright formerly of Bradbourne but then living at Brook Park in Flintshire, Wales (1). Gilbert Gould returned to Pilsbury Grange with his bride, and Nat Gould went farming there with him a few years later: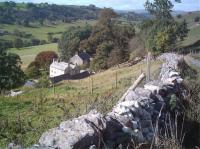 In his autobiography, Nat Gould paints a vivid picture of Pilsbury Grange during the 1870s when Gilbert Gould was farming there. Young Nat had tired of the tea trade in Manchester, and went to Pilsbury to learn farming with his uncle

"and a real good uncle he proved to me - I was in the home of my forefathers; it appealed to me, went straight to my heart, reviving all the memories of the past - The open air, the green pastures, the murmuring waters of the Dove – most beautiful of streams – the songs of birds, the lowing of cattle, the bleating of sheep, the contented grunting of the pigs, the rattling of the milk-churns, the smell of the earth, bathed in dew, the cheerful neighing of the horses --- " (2).


Gilbert Gould died at Pilsbury Grange on 19 June 1891 aged 70 years, and was buried at Hartington on 27 June 1891.


References
(1) The report in the Derby Mercury dated 27 August 1862 reads: "On the 20th inst., at Northop, Flintshire, by the Rev. Evan Jenkins, Mr. Gilbert Gould, of Pilsbury Grange, Hartington, Derbyshire, to Ellen, third daughter of Mr. Wright, Brook Park, Flint. late of Bradbourne, Derbyshire."
(2) The Magic of Sport page 18.

---