Martha Wooddisse 1847-1922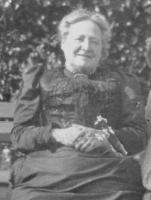 Martha Wooddisse was born on 3 May 1847 at Hartington in Derbyshire, the daughter of John Wooddisse 1813-1894 and his wife née Susannah Hall 1818-1889.

In 1873 she was married in Manchester to Richard Goodwin Gould 1822-1892, the son of Edmund Gould 1782-1833 of Pilsbury Grange and his wife née Margaret Peake 1783-1844, and uncle of Nat Gould.

They lived at Longnor in Staffordshire.

They had the following children:

Ellen Gould 1872-1959. She was born in 1872 at Manchester. She was twice married, first in 1895 to Charles Henry Ridgway 1866-1916 and secondly in 1919 to John Wotherspoon 1869-1946. She died on 8 October 1959 at Buxton in Derbyshire.

Frederic Thomas Gould 1874-1956. He was born in 1874 at Hartington and died on 11 May 1956 at Longnor.

Richard Goodwin Gould 1877-1953. He was born on 15 May 1877 at Longnor. In 1912 he married Lizzie Madge Verryck 1891-1969. He had a distinguished career in the Royal Navy, and died in 1953 at Dunfermline in Scotland.

Margaret Mary Gould 1881-1970. She was born on 1 July 1881 at Longnor and died there unmarried on 15 November 1970. After her mother died in 1922 she managed the Crewe & Harpur Arms in Longnor, along with her brother Frederic Thomas Gould until 1952. They both had their own farms also.

Martha Gould 1886-1950. She was born on 3 October 1887 at Longnor. She assisted her widowed mother together with her unmarried sister Margaret Mary Gould in running the Crewe and Harpur Arms Hotel in Longnor, and was unmarried. She died at Longnor on 7 June 1950.

John Gould 1889-1917. He was born in 1889 at Longnor, and was killed in action on 7 October 1917 at Passchendaele, Ypres in Belgium during the First World War.

Elizabeth Gould 1892-1977. She was born in 1892, and was married to James Howe in 1916. The Howe family owned a hat making business in Lancashire. James Howe died in 1922. They had three children including a son Richard Gould Howe 1917-1941, pilot sergeant in the 65th Squadron of the Royal Air Force, killed in action in 1941. Elizabeth Howe nee Gould died in 1977 at Stockport in Cheshire aged 85 years.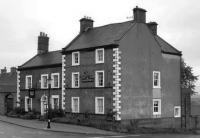 Crewe and Harpur Arms
Their father Richard Goodwin Gould died on 15 April 1892, and was buried at Longnor.


Signature on 1911 Census Return
His widow Martha Gould née Wooddisse managed the Crewe and Harpur Arms Hotel in Longnor, assisted by her unmarried daughters.

She died on 13 October 1922. A letter of condolence from her second cousin William Wooddisse 1866-1926 of Hill Crest, Ashbourne in Derbyshire dated 15 October 1922 was received by her elder unmarried daughter Margaret Mary Gould 1881-1970.

Probate of her Will was granted on 21 December 1922 (1).


Reference
(1) "GOULD Martha of The Crewe and Harpur Arms Hotel Longnor Staffordshire widow died 13 October 1922 Probate London 21 December to Margaret Mary Gould spinster and George Frederick Leighton Millward grocer. Effects £1014 19s." England and Wales, National Probate Calendar (Index of Wills and Administrations) 1858-1966 (1922) page 442.

---