Return to England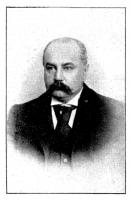 Nat Gould in 1895
Nat Gould and his family arrived at Tilbury Docks in London on 24 May 1895.

Back in England, Nat Gould was reunited with his mother and introduced his wife and three children to her. For a time the family lived in or near Ashbourne in Derbyshire. Where they stayed on first arriving is not entirely clear. Perhaps with his aunts at Hanson Mount in Ashbourne. If so that might explain why baby Doris Isabel was christened at Mayfield, just in Staffordshire across the river Dove. On the other hand, why wasn't she christened in Ashbourne church just across the road? Perhaps they stayed in Mayfield village itself, in the cottage that was occupied by Nat's grandfather William Wright and sometimes by Nat's mother.

But eventually they settled at Bedfont in Middlesex. That seems a curious choice at first sight. Nat Gould adored the Derbyshire countryside, and had longed to be back there when homesick in Sydney. Certainly he revisited his old haunts at Pilsbury Grange and Bradbourne (1). But why did he not settle permanently in one or other of those places? The answer lies in Nat's paradoxical character. No matter how passionately he longed for Derbyshire, nor how eloquently he could speak and write about its beautiful scenery and people, it was too far away from what had now become the very centre of his world – the horse racing courses. Bedfont might well be an obscure village in what was then still the rural Middlesex countryside, but it lay on a main road convenient for travel to the race courses at Ascot, Kempton Park, Newbury, and by London to Epsom and Newmarket.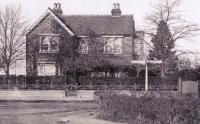 Newhaven, Bedfont
Their first home in Bedfont was a house called Cambria, where they were living by 18 October 1895 (2), but they soon moved to Wotton Grange which stood on London Road, now called Staines Road (3). The house was probably not large (4). By 1896 however the family had moved further southwest down the road to a much larger house which stood opposite the end of Bedfont Lane (5). They called their new home Newhaven, after the Derbyshire place that Nat Gould had known in his youth, as well as being a "new haven" for the growing family (6).

During their life in Bedfont three more children were added to the family of Nat Gould and his wife Elizabeth at Newhaven. They were Frederick William Gould (born 1898), Winifred Madeline Gould (born 1902), and Norman Henry Gould (born and died 1905) (7).

For further details of the return to England and life at Bedfont see Nat Gould: The Biography by Tom Askey (2017) pages 59-66.


References
(1) The Magic of Sport pages 203 to 210.
(2) Nat Gould wrote a letter dated 18 October 1895 from there to the Australian writer, journalist and poet Edwin James Brady (1869-1952). He wrote another letter to him from that address on 29 November 1895. Mitchell Library, the State Library of New South Wales, Australia : ML MSS A 1726 Letters 1 and 2.
(3) Kelly's Middlesex Directory for 1898 pages 34 and 479. Nat Gould wrote a letter to E.J. Brady from Wotton Grange on 24 September 1897 : Mitchell Library, the State Library of New South Wales, Australia : ML MSS A 1726 Letter 3. However a letter written to the journalist and campaigner G.R. Sims from Newhaven is dated 17 August 1896 : Mitchell Library, the State Library of New South Wales, Australia : ML DOC 1380 Letter 1. Nat Gould was then evidently using up old stationery.
(4) Its site is now occupied by a small terrace (Numbers 1 to 4 Pentelow Gardens) built in the late 1960s. The adjoining trees look older than the houses and may once have been in the garden of Wotton Grange. Unfortunately no photograph of the house has been found.
(5) Nat Gould wrote a letter to G.R. Sims from Newhaven on 17 August 1896 : Mitchell Library, the State Library of New South Wales, Australia : ML DOC 1380 Letter 1.
(6) Newhaven too has now gone, being replaced by several semi-detached houses in the 1920s.
(7) Norman Henry Gould is not mentioned in any of his father's autobiographical writings.

---