Early life
Nat Gould was born on 21 December 1857 at 27 York Street in Manchester.

His father, also named Nathaniel, was a tea merchant and had married Mary Wright. Both parents came from Derbyshire yeomen families, the Goulds having been at Pilsbury Grange in the Dove valley since 1684, and the Wrights at Bradbourne.

Nat was a sickly infant, struggling desperately for existence. His two brothers died in infancy. He records that his case was considered wellnigh hopeless until he was three years old. In later life Nat Gould did not care to dwell on his infancy, merely commenting that most babies go through various familiar ailments common in the nurseries of the rich and poor alike (1).

When schooldays arrived he became a weekly boarder at a school at Brookes Bar on the southern outskirts of Manchester. His teacher was a Miss Mellor, who wore ringlets and unfashionable crinolines. Each week his father took him to the bottom of Market Street to board the horse-drawn omnibus, paying his fare and giving Nat sixpence, before crossing the road to his tea merchant shop. The guard saw him safely inside the school, but on the journey he sometimes permission for Nat to sit next to him on his box seat. It was then that Nat Gould first began to love horses, which was to become the mainstay of his whole life (2).

Nat was not an attentive pupil, and in his autobiography glosses over the several other schools he attended subsequently until finally he was sent to School at Southport. He must have been a sore trial and disappointment to his parents. Nevertheless he managed to pass his examinations, commenting that it is not the cleverest boy in the school who gets on best in the world. He admitted to not being an academic pupil, but he said that he excelled in sport, especially cricket and Rugby football (3).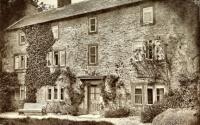 Pilsbury Grange in the 1870s
School holidays were spent at Pilsbury Grange, where Nat Gould loved the freedom of the open air and the country life. It was a pleasure that he shared with his father, whom he adored.

"The love that he bore for his old country-house was intense. He often spoke of it to me as we tramped from Buxton to Pilsbury, or I walked from the house to meet him on the main road when I was staying there --- he threw out his chest and inhaled vigorously. Then, after a stay of three days at the outside, he was off back to Manchester again, and to his labours in the dust of the tea-room". The walk that Nat and his father took from Buxton to Pilsbury was a good stretch – some fifteen miles (4).

Between 1861 and 1871 the Gould family had moved from Nat Gould's birthplace to 26 St Mary's Road (St Mary's Villas) in the nearby Manchester suburb of Crumpsall.

While Nat Gould was still a teenage schoolboy in School at Southport, his father suddenly died. Nat's mother, who never had good health, had been taken very ill and was convalescing at Southport in 1874. Her husband visited her. While wheeling her in a bath-chair he caught cold, and four days later was dead. Both Nat and his mother were devastated with grief. The strong man had been struck down, the weak woman left. Although Nathaniel Gould the elder died from home in a strange house, he was surrounded by loving friends. He was buried at Prestwich near Manchester, in the family vault, with his two sons William Pichott Gould 1855-1857 and Henry Gilbert Gould 1859-1860 who died in their infancy.


References
(1) The Magic of Sport page 1.
(2) The Magic of Sport pages 1 to 3.
(3) The Magic of Sport pages 6 to 8.
(4) The Magic of Sport page 14.

---