Hanson Mount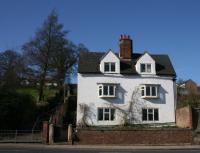 Hanson Mount
Anne Gould 1806-1885 and her sister Catherine Gould 1809-1910 lived at Hanson Grange with their bachelor brother Thomas Gould 1800-1878 until his death in 1871. Their niece Eliza Wright 1840-1936 lived there with them as their companion. She was born in Bradbourne on 12 March 1840, the daughter of William Wright 1796-1882 and his wife Elizabeth Gould 1802-1843.

In 1871 the two sisters and Eliza Wright moved to a house in Church Street in Ashbourne (opposite the parish church) which they named Hanson Mount, where they all lived to the end of their lives.

Anne Gould predeceased her younger sister Catherine Gould, who died in 1910 aged 100, bequeathing her property to Eliza Wright.
There was some uncertainty to the exact provisions made by Catherine Gould, but an Agreement was concluded on 1 May 1911 between all the heirs to convey their property to Eliza Wright for her lifetime. Eliza Wright was unmarried and died on 14 June 1936 at Hanson Mount.

---