Pilsbury Grange Letter 4
Letter 4 of the Letters from Pilsbury Grange is dated 26 July 1843, and was written by Nathaniel Gould 1824-1874 to his brother Richard Goodwin Gould.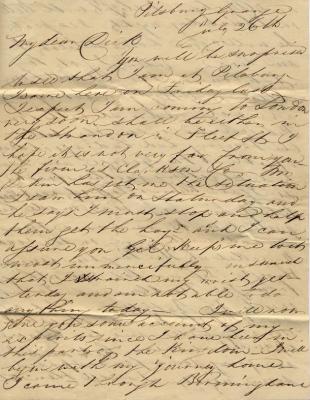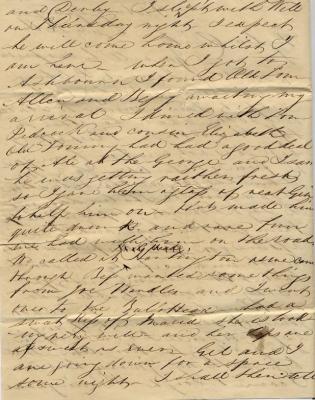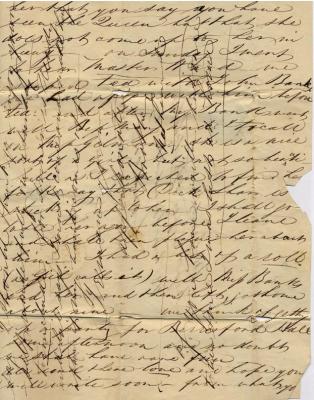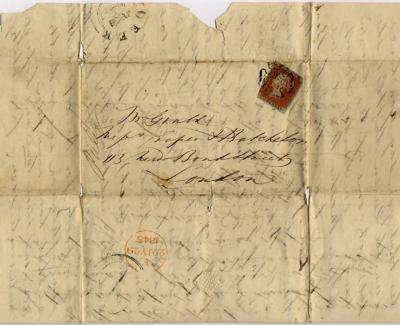 Transcription
Mr Gould
Messrs Roper & Batchelor
113 New Bond Street
London

Pilsbury Grange
July 26th [[1843]

My Dear Dick,

You will be surprised to see that I am at Pilsbury. I came here on Friday last [.]. I expect I am coming to London very soon - shall be either in the Strand or in Fleet Street [.] I hope it is not very far from you - the firm is Clarkson & Co. Mr Dakin has got me the situation. I saw him on Saturday and he says I must stop and help them get the hay - and I can assure you Gil keeps me to it most unmercifully insomuch that I sprained my wrist yesterday and am not able to do anything today. I will now give you some account of my exploits since I have been in this part of the Kingdom. I will begin with my journey home. I came through Birmingham & Derby. I slept with Will on Thursday night. I expect he will come home whilst I am here. When I got to Ashbourn I found Old Tom Allen and Bessy awaiting my arrival [.] I dined with Tom Pidcock and cousin Elizabeth. Old Tommy had had a good deal of Ale at the George and I saw he was getting raither fresh, so I gave him a glass of neat Gin to help him on - that made him quite drunk and rare fun we had with him on the road. We called at Hartington as we came through. Bess wanted some things from Joe Wardle's - and I went over to the Bulls Head - had a sweet kiss off Maria she is looking very well and her lips are as sweet as ever. Gil and I are going down for a spree some night. I shall then tell

[[page 2]

her that you say you have seen the Queen and that she does not come up to her in beauty. On Sunday I went to hear Master Ward . We stopped tea with John Banks & we had a pipe with him before tea and after Miss Banks went with Bess, Mary and I to call on Miss Gilman - she is a nice sort of a Girl but not so beauti-full as I expected to find her folks say that Dick Shaw is sucking up to her. I shall go to see her again before I leave and shall then plague her about him. I had a bit of a roll (as Gil calls it) with Miss Banks and her and then left, got home about nine. We think of getting up a party for Berrisford Hall some afternoon and no doubt we shall have rare fun.
All send their love and hope you will write soon. From what you

[[cross written]

say I should think you enjoy yourself so much & fully on a Sunday. To conclude for dinner is ready and Gil says I must make hay after [-] its very hard corn
I remain your
Affectionate
Brother
Nathaniel

PS You have written nothing to me since I was last at home


Note
This letter, written privately from brother to brother, provides a side to the character of Nathaniel Gould 1824-1874 differing from the saintly figure that his son Nat Gould portrays in his autobiographical book The Magic of Sport. The carefree lad was to grow into the hardworking tea merchant, slaving away in grimy Manchester far from his beloved Pilsbury countryside. The Gould household suddenly comes alive when we read "Gil" and "Will", "Bess" and "Dick", instead of formal "Gilbert", "William", "Elizabeth" and "Richard" recorded in parish registers and census returns.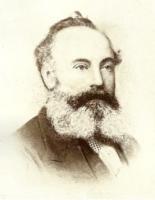 Nathaniel Gould 1824-1874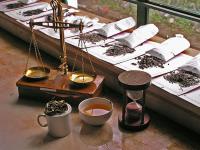 Though born in the house of his ancestors at Pilsbury Grange, as a younger son Nathaniel Gould had to find work away from the old family home. At 17 he had been apprenticed to a Wolverhampton tea merchant, and lived in his household alongside four other apprentices. Now, two years later, he had come back home and was about to take up another apprenticeship, this time in London, where his brother Richard was already working.

Of the people mentioned in the letter, Mr. Dakin was to become Sir Thomas Dakin in 1872.
Gil was Nathaniel's brother Gilbert Gould 1821-1891.
Will (evidently then at Derby) was his brother William Gould 1819-1876 who later emigrated to Australia.
Bessy or Bess was Nathaniel's sister Elizabeth Ann Gould 1827-1868.
Tom Pidcock was Thomas Pidcock 1818-1892 of Thorpe in Derbyshire, who had married "cousin Elizabeth" nee Elizabeth Greensmith 1821-1897. Elizabeth's mother, Thomasin Goodwin Gould 1787-1853 was the writer's aunt. She was the sister of his late father Edmund Gould 1782-1833.
Mary was the writer's sister Mary Gould 1826-1873.
Sadly the identity of "sweet Maria" at the Bull's Head is unknown!

The slang current in Hartington in the 1840s is fascinating. When Nathaniel wrote that he was going to plague Miss Gilman, he meant that he was intending to tease her. Otherwise his obsolete slang is still readily understood - "spree", "raither fresh", "roll" and "hard corn".

Nathaniel Gould in 1843 was still continuing to write a letter economising on paper by cross-writing. Before the prepaid post was introduced in 1840, the recipient had to pay postage by the weight of the letter or the number of sheets. Hence the old habit of keeping the weight and number of sheets down by the cross-writing. But with the introduction of the Penny Post in 1840 it had become as unnecessary to cross-write in 1843 as not to use a covering envelope. Old habits died hard at Pilsbury Grange.

This letter was followed three weeks later by another letter written to the same recipient by his anxious mother.

---