John Gould 1700-1725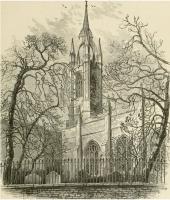 St Dunstan's in the East
John Gould was born in 1700 at Pilsbury Grange in Hartington parish in Derbyshire, the youngest child of William Gould 1655-1725 and his wife Mary Hollis 1654-1713. He was baptised at Hartington on 23 July 1702.

He went to London and lived in the parish of St Dunstan's in the East in the City (1). He was apprenticed to Samuel Richards of the Ironmongers' Company on 4 July 1715 (2). Presumably he entered some trade or profession, perhaps the silversmith and cutlery trade that had been established by and enriched his maternal grandfather.

He died a bachelor on 26 September 1725. Probate of his Will dated 22 September 1725 was granted on 14 October 1725.

Although only aged 25, John Gould was on his death bed when he dictated his will to Samuel Dunning. He was too ill to sign it, and therefore a Schedule Testamentary was drawn up and agreed by him.

At first John Gould wanted "Thomas Hollis senior" and "Thomas Hollis junior" to be his Executors. They were respectively his first cousin Thomas Hollis 1659-1731 and Thomas Hollis the son of his first cousin Nathaniel Hollis.

However Thomas Hollis junior said that he would shortly be leaving London, and that John Williams was a closer relative. He was a first cousin by his marriage to Elizabeth Hollis, daughter of the testator's uncle John Hollis of St Albans born in 1648. And so it was agreed that that he should replace Thomas Hollis junior.

After the Will had been prepared for signature by John Gould, Thomas Hollis junior and the scribe Samuel Dunning went upstairs to where John Gould was mortally ill in bed, and the wording was approved by him with minor alterations. He called for pen and ink, and asked the two men to lift him up in bed so that he could sign it. Unfortunately when they raised him, he became delirious and thereafter was never able to sign the document with his mind, memory and understanding in good order. Tragically he lingered for another four days in a delirious state and died on 26 September 1725 (3).

Probate of the Will presented some difficulty. The Court had to be satisfied that all was in good order. Consequently Thomas Hollis junior and Samuel Dunning had to swear signed statements about what happened. Furthermore two of the closest relatives to the deceased gave evidence. They were William Gould 1677-1772 (a brother of John Gould) and Richard Taylor (his brother in law), both being beneficiaries under the Will. Richard Taylor was the husband of the testator's sister nee Lidia Gould. The Court was evidently satisfied, and probate was granted on 14 October 1725 to the executors Thomas Hollis senior and John Williams (4).


References
(1) The church of St Dunstan's in the East was so named to distinguish it from St Dunstan's in the West in Fleet Street near Temple Bar. It was designed by Wren, but the nave shown in the illustration (1891) was rebuilt. The church was heavily damaged in the London blitz in 1941 and was not rebuilt, although the Wren tower that John Gould would have known still survives.
(2) London Apprenticeship Abstracts 1442-1850.
(3) What caused the early death of John Gould remains unknown. Evidently it was not from some contagion, as the two deponents handled him to a sitting position in bed. Perhaps it was the result of some kind of accident.
(4) Probate copy of the Will of John Gould.

---