Routledge
Nat Gould had written stories from his childhood. As a schoolboy, away from home in Southport, he had composed yarns for his friends to be told at night in the school dormitory. In those days he wrote to gain prestige among the other schoolboys (1).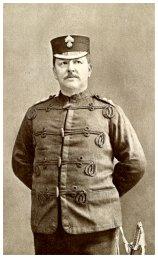 Robert Warne Routledge
But his real career as a storyteller, writing for money, began while he was living in Australia. While working as a journalist in Sydney he wrote a horse racing story called Blue and White which was serialised in the Sydney Referee in 1888. When employed in Bathurst, the editor of the Sydney Referee commissioned another racing serial for his new weekly paper. Nat called it With the Tide, but the title was changed to The Double Event before it appeared in book form. In 1891 the story was published in London by George Routledge & Sons Ltd. It was an immediate success both in England and Australia (2).

Two more novels were accepted even before they were completed, and Nat Gould wrote nine books altogether while living in Sydney, all being published by George Routledge & Sons Ltd. They are:

1891 The Double Event: A Tale of the Melbourne Cup
1892 Jockey Jack
1892 Running it off; or Hard Hit: An Enthralling Story of Racing, Love and Intrigue
1893 Banker and Broker
1893 Harry Dale's Jockey "Wild Rose" her Life and Adventures
1894 Thrown Away: or Basil Ray's Mistake
1894 Stuck Up
1895 On and Off the Turf in Australia
1895 Only a Commoner

When Nat Gould returned to England in 1895 he received a warm welcome from his publishers George Routledge & Sons Ltd at their premises near Ludgate Hill in London. He started work on writing novels as fast as his publishers would accept them. George Routledge himself had died in 1888, and the firm was in the hands of his son Colonel Robert Warne Routledge "who was the sort of man anyone could get on with" (3).

Soon afterwards changes were made at George Routledge & Sons Ltd. "The old firm fell on evil times, and there was trouble and many changes". Robert Routledge left the family firm and took offices of his own. "He acted as a literary agent,and I placed my books in his hands, more as an act of friendship than anything else. I promised him I would stick to the firm so long as he was in it. When he died I changed my publisher" (4).

Routledge published 21 more books written by Nat Gould from 1896 to 1900 (5).


References
(1) The Magic of Sport page 4.
(2) The Magic of Sport pages 169 to 175.
(3) The Magic of Sport pages 194 and 195.
(4) The Magic of Sport page 195. Standing by his friend was an act of charity on the part of Nat Gould. He does not mention that Robert Routledge was actually compelled to leave the family publishing firm by his younger brother Edmund Routledge. Eveleigh Nash, another friend and publisher, revealed in her autobiography that Robert Routledge "was obliged to retire, as he had been living beyond his means and had overdrawn his account by nearly £10,000": I Liked the Life I Lived: Some Reminiscences (1941) page 38. "That handsome gesture on Gould's part was not tested more than briefly, because both Routledge brothers died suddenly in 1899" Philip Waller Writers, Readers and Reputations: Literary life in Britain 1870–1918 (2006) page 836. Nat Gould kept his promise: Robert Routledge died in 1899, and none of Nat Gould's books were published by Routledge after A Dead Certainty appeared in 1900.
(5) For further details see Nat Gould: The Biography by Tom Askey (2017) pages 102-106.

---