The Runaways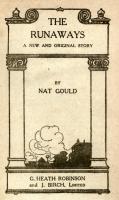 Originally published by Everett in the 1903 issue of the Annuals by Nat Gould.

Redmond Maynard of Hazelwell had quarrelled with his son Ulick who thereupon disappeared into the night from their ancestral English home. He had hoped that Ulick would marry his ward Irene, but instead she had married his neighbour Warren Courtly. Janet Todd, daughter of his stud manager Eli Todd, had vanished on the same night, and Maynard falsely believed that Ulrick had eloped with her. Ulick learns of Janet's diappearance on a secret visit to Eli, and resolves to find her. He discovers the identity of her mysterious lover, and is reunited with his father. All ends happily, after dramatic events at a house in Feltham, a thrilling horse race, and gripping fox hunting scenes.

An excellent story, excitingly paced, with interesting characters and beautiful descriptions of their surroundings. (TA)

It was reprinted and issued as a separate novel in 1920 and reissued in 1922 and 1937. Nat Gould had died in 1919, and in their 1920 edition the publishers G.H. Robinson and J. Birch included "An Appreciation" of the late author by E. Laton Blacklands, one of his very many enthusiatic admirers. This 1920 edition also contains a prefaced inscription by Nat Gould to the memory of his son Herbert Ruska Gould MC who had been killed in action in 1918.

---