Francis Wright 1825-1900
Francis Wright
Born: 1825 Atlow, Derbyshire
Died: 1900 Ashbourne, Derbyshire
Father
John Wright 1791-
Mother
Elizabeth (surname unknown)
Siblings
Spouse
Mary Elizabeth Atherton 1830-
Children
Frances Wright 1854-
Mary E. Wright 1855-
Frank Wright 1857-
John Atherton Wright 1859-1897
Francis Wright was born on 3 February 1825 at Atlow in Derbyshire, the son of John Wright 1791- and his wife nee Elizabeth (maiden surname unknown).

He was the partner that Nat Gould's father Nathaniel Gould took into the his tea dealing business in Manchester after Richard Goodwin Gould left the firm. Francis Wright was a first cousin of Nat Gould's mother nee Mary Wright.

Mary Gould may have introduced the new partner Francis Wright into the firm. She knew that her son needed a strong male hand to keep him on the straight and narrow path after her husband died in 1874. She had ample cause for such anxiety. Enthralled by horse racing, Nat was becoming a gambler. Although he grew to know its darker side, it was something that he was always to be ambivalent about.

Francis Wright, the new partner, was very experienced in the grocery trade. Born in 1825 at Atlow in Derbyshire, at 15 he had been one of four apprentices of John Tempest Morley (1), a grocer at 19 Iron Gate in Derby. By 1851 he was a grocer trading on his own account at 102 Great Ancoats Street in Manchester, where he employed five men and two boys. Soon after he married Mary Atherton (born 1830 in Manchester) and by the time he had joined in partnership with Nathaniel Gould he was living near the Gould family at 137 York Street in Cheetham with his wife, two daughters and two sons. The 1861 Census records him then as being a tea dealer. Ten years later, still described as a tea dealer, he was living at Atlow Mount in Broughton, Salford, with four children, his father-in-law John Atherton (a retired engineer), his housekeeper, and several servants.

Francis and Mary Elizabeth Wright had the following children:

Frances Jane Wright. She was born in 1854 in Manchester. She was known as Fanny Jane, and was married to William Barnes of Ashbourne, an ironmonger. She died on 6 January 1922 aged 68 years, and was buried at Osmaston near Ashbourne in Derbyshire.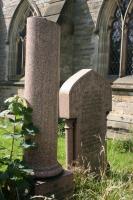 Wright Graves (3)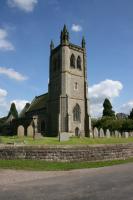 Osmaston Church
Her widower William Barnes died on 10 June 1935 aged 87 years, and was buried with her at Osmaston.

Mary E. Wright. She was born in 1855 in Derby.

Frank Wright. He was born in 1857 in Manchester. He had died by 1909 (2).

John Atherton Wright. He was born in 1859 in Manchester, and died at Marseilles in France on 27 March 1897 aged 39 years.

In 1881 their parents and their unmarried son John Wright and unmarried daughter Mary Wright were living in retirement at Derby Road in Ashbourne with the family of his married daughter Frances Barnes, an ironmonger in that town.

Francis Wright died on 14 December 1900 and was buried at Osmaston.


Notes
(1) John Tempest Morley, the Derby grocer to whom Francis Wright had been apprenticed in 1841, may have been related by marriage to Nathaniel Gould, namely his uncle Thomas Dale's sisters' father-in-law.

(2) He and his brother John Atherton Wright were contemporaries of Nat Gould, who resented working for their father in the Manchester tea trade. They were his second cousins. In his 1909 autobiography The Magic of Sport Nat Gould wrote:

"Soon after my father's death I left school, and commenced to learn business in the tea trade with the remaining partner in the firm [[Francis Wright] ... I went to live with my father's partner at Cheetham Hill, and they treated me well and hospitably. In business it was different. Had he been alive, I might have remained in the trade, but with his partner I could never hit it. His disposition was entirely unlike my father's; his temper was short, his manner stern and unbending; he was irritable and apt to misjudge. At the same time he tried to be just, and probably I was not altogether blameless for our many disagreements." (Page 15.)

"I shall always think that a portion of that business ought to have been mine. I was ousted out, and his two sons stepped in. I am sorry to say that they are both dead, for I liked them, and I think the feeling was reciprocated." (Page 17.)

(3) In the photograph the column on the left commemorates John Atherton Wright, and the gravestone on the right marks the grave of his parents.

---