Brisbane
On reaching Brisbane, Nat Gould met the newspaper sub-editor Tom Elwes, whom Nat describes as "an Englishman of the right sort" (1) with whom he quickly became good friends. Elwes was living at the Queens Hotel, which Nat though might be too grand for his means. But Elwes laughed and said that they would see the proprietor about that problem. Mic Phillips, the proprietor, generously agreed suitable terms for Nat, who then went off to the office of the Brisbane Telegraph with Elwes. He got on well with the editor, and settled into an easy routine of work. Soon he took over the horse racing reporting as well as his work in shipping and other commercial work. Luckily he had avoided parliamentary reporting which he had always found dreary. The old "magic of sport" rekindled, this time with what proved far-reaching consequences. For the next three years he attended all the principal races at Eagle Farm racecourse. But although he got to know most of the people in the racing world there, he admitted that he was not yet "fairly in the swim".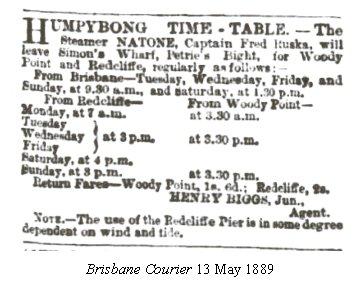 The Brisbane Telegraph was an evening paper, and so Nat was free to enjoy himself from midday on a Saturday until the following Monday morning. He and Tom Elwes and another friend who worked on the rival Brisbane Courier would often take the steamship to a place called Humpy Bong on the shores of Moreton Bay, and spend the weekend in a wooden hotel at Redcliffe Point a few miles further on. It was on one of those trips that Nat first met the steamer captain's sister Elizabeth Madeline Ruska. She was nineteen, ten years younger than Nat. "It was a case of love at first sight with me", wrote Nat, "and I hope I am not disclosing a secret when I say with her also" (2).

They were married on 14 April 1886 at the Ann Street Presbyterian manse. Then, having bought a house in Woolloongabba, they settled down to home life, aided by a handsome present of £200 from Nat's mother. But again Nat showed that he was a poor businessman, and the house turned out to be a bad investment. It was seriously flooded when the heavy Queensland rains came, and eventually proved hard to sell. But they lived well, and Nat worked diligently on all manner of journalist work.

On 28 November 1886 their first child was born, a daughter Edith Mary Gould, but sadly she died on the 28 February following. Nat nowhere mentioned her in his writing.

One of the jobs that came his way was to write a short story of four or five columns for the Christmas edition of a publication called The Week. He was not paid anything extra for doing it, but said he just wrote the story for the sheer pleasure of seeing it in print. "It was good practice, and gave me an idea how to put longer stories together."

But then far-reaching changes occurred at the Brisbane Telegraph. In 1887 his friend Tom Elwes went down south to work on the Sydney Morning Herald. Unfortunately the new sub-editor was definitely not to Nat's liking. He thought him a know-all with an overbearing attitude. Worse still in Nat's eyes he was not "fond of company". Despite the appointment of the Reverend George Woolnough as editor, Nat resigned and also went south to take a job on the Sydney Referee and the Sunday Times.

Nat and Elizabeth eventually managed to sell their house, and they sailed for Sydney. "It was a wrench to my wife, but, ever helpful and encouraging, she made no fuss about the matter" (3). Nat had not given her much choice. What she privately thought about leaving behind her family and friends we can only imagine (4).


References
(1) The Magic of Sport page 124.
(2) The Magic of Sport pages 127 to 128.
(3) The Magic of Sport page 140.
(4) Nat Gould: The Biography by Tom Askey (2017) pages 31-37.

---