Banker and Broker
First published in 1893, this was the fourth of Nat Gould's novels to be published in book form. The publisher was George Routledge and Sons Ltd of London.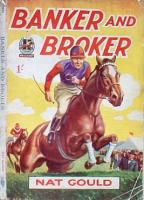 The novel was well received. The reviewer in The Glasgow Herald praised it warmly, outlining the story but courteously not disclosing its ending:

"Cyril Melrose was a Sydney banker whose financial genius had made him at a comparatively early age one of the most trusted men in Australia. He had done great things for the bank, and the directors had done great things for him. He had a charming wife, as good as she was beautiful, two fine children, a crack yacht, and a splendid house. In an evil hour he took to horse-racing and gambling, with their inevitable consequences. He appropriated the bank's money, and ultimately found himself in jail. It need not be said that this consummation was achieved by the aid of extraordinary villainy on the part of some of Mr Melrose's acquaintances, and that what reparation was possible was made by a platonic friend of the victim's wife.

How it all ended we must not say, but the book can be heartily commended to those who like stirring incident, and who prefer a story of the good old-fashioned kind, in which the sun of ultimate success shone with rigorous partiality upon the just alone, to the modern variety in which that sun is made to shine impartially upon the just and on the unjust." (1).

The book was reissued in 1919 by John Long Ltd, and later in 1935, 1960 and 1968.


Reference
(1) The Glasgow Herald Thursday 27 July 1893.

---