The Miner's Cup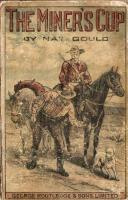 First published by Routledge in 1896. and subsequently reissued.

Alec Wilton and his mate Will Barker endure great hardships in their travels through Western Australia, but eventually they find gold near Coolgardie and become wealthy. There are numerous fights with unscrupulous prospectors, perils by fire and hurricane, and an exciting horse race. Villains are punished and virtue triumphs, as all ends happily.

A good read, although the finale on the future Australia becomes tedious. Nat Gould had not yet quite found his finest form in this early book, but it is a novel any writer could be satisfied in having written. (TA)

For a press review see the Biography page.


---