Horse or Blacksmith?
This novel by Nat Gould was first published in 1897 by Routledge under the title "Horse or Blacksmith?" .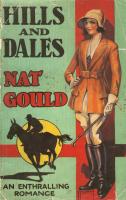 The title was a strange choice, and the mystified readers included the reviewer in The Pall Mall Gazette:

"The perusal of Mr. Gould's pleasant and pretty story throws no light whatsoever on its somewhat clumsy title. Evan Cross is the blacksmith, and a mighty man of muscle is he, and a fitting village leader, but no particular horse is ever alluded to. The small mystery, however, does not detract from the merits of the little book, which is brightly written, full of movement, and touches of pathos and humour, while the loves and hates, joys and sorrows, of the village in the Derbyshire dales make the interest of the story. The child who remarks, apropos to harps, that he 'hopes there are no tuners in Heaven, 'cause they make such a horrid noise,' is delightful" (1).

The book was later reissued with the more appropriate title "Hills and Dales".

The tale is set in a Derbyshire village (which Nat Gould himself admitted was really his beloved Bradbourne) and in the seedy Victorian world of London theatre.

It is one of his very best books.


Reference
(1) The Pall Mall Gazette Wednesday 9 June 1897.

---