Francis Albert Marryat
Francis Albert Marryat
Born: 1888 Melbourne, Australia
Died: 1957 Canberra, Australia
Father
Francis Henry Marryat 1850-1928
Mother
Miriam Sophia Jones
Siblings
Benjamin Francis Marryat
Frances Alice Marryat
Spouse
Doris Isabel Gould
Children
Francis Nathaniel Marryat 1919-
Betty Marryat 1922-
Lorraine Elva Marryat 1925-2013
Francis Herbert Marryat 1926-1983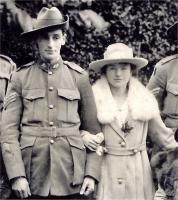 Wedding Day 1918
Francis Albert Marryat was born on 24 November 1888 at Albert Park, Melbourne in Australia, the son of Francis Henry Marryat 1850-1928 and his wife née Miriam Sophia Jones of St Kilda, Melbourne.

He was the great-grandson of the novelist Captain Frederick Marryat (1).

His father Francis Henry Marryat was born in London on 29 October 1850. He emigrated to Australia in 1860 with his mother and step-father.

On 12 October 1918 Francis Albert Marryat married Doris Isabel Gould at St Mary's parish church in Bedfont, Middlesex (2). She was the fourth child and elder surviving daughter of Nat Gould and his wife née Elizabeth Madeline Ruska.

At the time of his marriage he was a Sergeant in the 8th Battalion of the Australian Imperial Force, serving in London.

The newly-married couple immediately left for Australia, sailing on the White Star liner SS Dominion. They arrived in Montreal in December 1918, and then crossed from Canada into the USA. In the record of their crossing from Canada into the USA Francis Marryat was listed as an auctioneer. Their next of kin was given as his father, F.H. Marryat of 96 Wellington Street in Melbourne. They sailed from San Francisco for Australia on the liner SS Sonoma, arriving in Sydney on 14 January 1919.

They settled first in Geelong, Victoria where the 1919 Electoral Roll lists them as living at 156 McKillop Street, Francis being recorded as a salesman. In 1931 Doris and Francis were living at 1 Hartley Avenue. He was then described as an agent. By 1935 they were in Canberra, at Batman Street, Braddon, Francis Albert then being an accountant (3).

They had four children: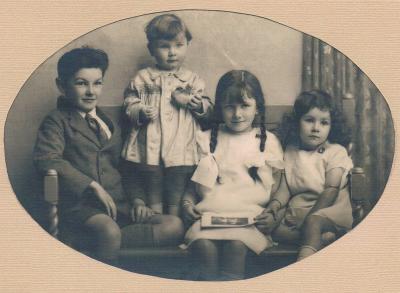 Nat, Frank, Betty and Lorraine Marryat in 1928
Francis Nathaniel Marryat. He was born on 14 July 1919, and was known as Nat. On 1 August 1938 he enlisted in the Royal Australian Navy at Geelong in Victoria, and served throughout the Second World War as a leading telegraphist, leaving the service in 1950. He married Nita Harriett (surname unknown).

Betty Marryat. Born in 1922, she was married to John Darcy McInerney 1917-1943 and lived in Canberra. He served in the army during the Second World War, and died in Japanese captivity in 1943. On 15 May 1948 Betty McInerney née Marryat was married in Canberra to Arthur Brimblecombe of Brisbane.

Lorraine Elva Marryat. She was born on 25 January 1925 at Prahran in Victoria. She served in the Australian Army in the Second World War from 1943 to 1946. She was married to Mr Nicholson and they had three children. She died on 3 December 2013 in Perth, Western Australia.

Francis Herbert Marryat. He was born on 1 December 1926, and was known as Frank. He married Joan Saunders née Shiels, the widow of John Philip Saunders who died on military service on Korea in 1953. He died in Canberra on 2 September 1983.

---
(1) A report in the New Zealand newspaper the Christchurch Star dated Wednesday 5 February 1919 states that he was the great-nephew of the novelist. He was in fact his great-grandson.
(2) Bedfont Parish Register; The Argus (Melbourne) 17 December 1918.
(3) Canberra Mail 27 April 1935.

---