Frederic Thomas Gould 1874-1956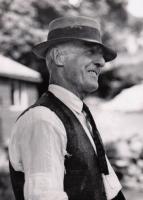 Frederic Thomas Gould was born in 1874 at Hartington in Derbyshire, the son of Richard Goodwin Gould 1822-1892 and his wife née Martha Wooddisse 1847-1922.

On 20 January 1916 he married Sarah Wain 1888-1950 at Sheen in Staffordshire. She was born at Sheen in 1888, the daughter of Thomas and Jane Ann Wain. She died at Cheddleton in Staffordshire in 1950.

They had the following children:

Peggy Wain Gould 1915-1976. She was born in 1915, and died on 31 October 1976 at Longnor in Staffordshire.

Richard Goodwin Gould 1917-1985. He was born 28 March 1917 at Longnor. He married Constance Weston in 1946 at Longnor, and died in August 1985.

Frederic John Gould 1920-1998. He was born on 24 August 1920 at Longnor. On 25 October 1949 he married Phyllis Elizabeth Eileen Cundy 1926-2009 at Wetton in Staffordshire, and died on 4 April 1998 at Buxton in Derbyshire.

Their father Frederic Thomas Gould died on 11 May 1956 at Longnor.

---