The Chance of a Lifetime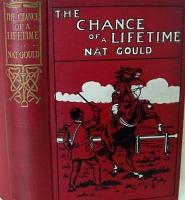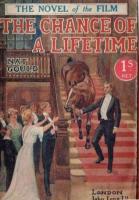 This story was first written as a play in 1909. It achieved great success on the stage both in England and Australia (1).

The story by Nat Gould was published as a book in 1910 under the title The Lottery Colt, and was reissued under the same title in 1915 and 1921.

Set in England, the story concerns Dick Douglas of Netherby Hall, who has spent his inherited wealth too freely and is forced to sell his racing stable. His favourite horse is however dramatically saved from being bought by a rascally villain who has a mysterious hold the sister of the stable trainer. The horse wins the Gold Cup race, the "Chance of a Lifetime" that rescues Dick Douglas from financial difficulty. The cup is however stolen but reappears dramatically at the denouement, when the villain is finally thwarted and needlessly estranged couples are happily reunited.

A finely constructed tale, which demonstrates Nat Gould's complete mastery of dialogue in pressing an exciting plot forward. A rumbustious story, subtly ending on a minor key in the final sentence. A superb read! (TA)

The story was made into a film in 1916 (2).


References
(1) The play was staged, for example, at His Majesty's Theatre in Hobart, Tasmania in 1917 when the local newspaper reported that "Nat Gould's memory is being kept green". (He had returned to England in 1895.) The leading roles were played by Queenie Thomas and Austin Gamp. (Hobart Mercury dated 11 September 1917.)
(2) "Nat Gould on the Film. Much interest attaches to the fact that the novels by Nat Gould (whose sales to date exceed nine million copies), will be shown on the film for the first time throughout the British Empire. The first for "A Gamble for Love" and for "The Chance of a Lifetime" are being produced by the Holmfirth Producing Co., Ltd., who are sparing no expense to make them worthy of the novels of Nat Gould, the world's favourite author. The first may be expected in June." Middlesex Chronicle 25 March 1916.
The film of The Chance of a Lifetime was the "star picture" to be screened in four parts at the Don Stadium in Darwin, Northern Territory in August 1919. The local newspaper reported that it was a sensational racing story that should particularly appeal to "Darwin sports" on "Cup Night". Northern Territory Times and Gazette 9 August 1919.

---