Homovet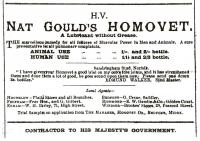 Nat Gould formed a business called The Homovet Company to market a product named Homovet that he had developed for application as an embrocation both for human use and for horses and other animals.

Homovet seems to have been concocted at Bedfont in Middlesex by Nat Gould (or more likely somebody else) and sold in the London area and to racing stables elsewhere, including the Stud at Sandringham (1).

It was advertised as "A specific for Wounds, Cuts, Bruises, Strains, Broken Knees, Rheumatism, and all bad swellings (Animal Use)" and "Sore Throats, Neuralgia, Lumbago, Cramp, Stings, Burns, Rheumatism, and all muscular failures (Human Use)."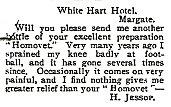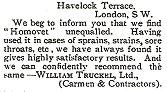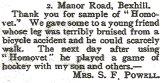 Nat Gould however was no businessman, and still less a marketing entrepreneur. He grew weary of Homovet and The Homovet Company.

By 1913 he had placed the entire business in the hands of his son Sidney Nathaniel Gould, on the clear understanding that he was no longer to be troubled with it.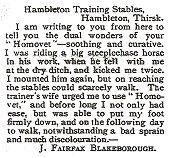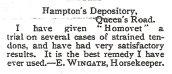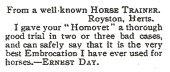 A substantial amount of goodwill was built up, and the business received glowing testimonials from delighted customers as to the efficacy of Homovet when applied both to man and beast.


However cash flow became a problem. It proved difficult to get payments, and money was owed to the company.

In despair Sidney appealed for financial assistance to his father's cousin Charles Wright, a gentleman's outfitter in Bakewell, Derbyshire (2). The outcome is unknown, and the company's product does not seem to have survived the First World War (3).


References
(1) Middlesex Chronicle 13 July 1907.
(2) Letter dated 17 May 1913: Thw Norman Comben Collection, The Welcome Foundation, London: MS 7568.
(3) Nat Gould: The Biography by Tom Askey (2017) pages 73-75.

---