Funeral cortege of Mary Gould
In his essay Toll Bars and Other Gates, Nat Gould wrote of his mother's funeral:

"There are gates through which we have passed brimful of hope and happiness; gates that have led us to the old porch of the church to the threshold of a new life, and the hope of a career in which others shall share our fortunes and our joys. Gates thrown open wide to receive the happy bride, gates through which love dancingly leads the way amidst the flower-strewn path, gates which do not close with a harsh clang, but stand open wide with a gladsome welcome in their wooden arms.

It is summer then and the gates are white and clear, bathed in the warm sunlight, glistening in new white coats, standing out bold and clear amidst the green of the trees and the bright grass on these well-trimmed mounds, these beds smiling with flowers nodding their fragrant heads at the old time-worn stones above them.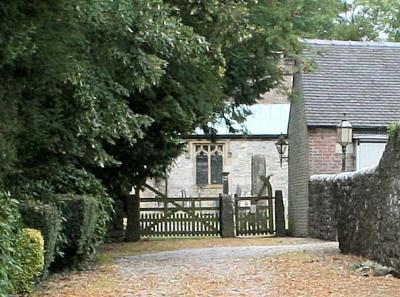 It is winter now and the gates stand wide open again. They are the self same gates, but aged and dull. They look grim and stained against the pure white of the snow-covered earth, the frost-bedecked firs, and the glistening icicles suspended from the wall. They are wide open, but there is no 'wooden-armed' welcome; it is a dull, sombre reception, for the gates are sad, and the bride, long gone, is returning alone. There is a black patch amidst the fallen snow, and it spreads out and winds slowly up the hill. It comes in sight again round the village smithy and it turns up to the gates.

The bride has returned. She passes through the gates, she enters the porch, she returns to the churchyard, but she does not pass out of the gates again. The black line winds away again and the gates are closed" (1).


Reference
(1) Sporting Sketches (1900) pages 330 and 331. The gates are those of Bradbourne churchyard in Derbyshire.
For another photograph and more details, including his own funeral there, see Nat Gould: The Biography by Tom Askey (2017) pages 99-100.

---