Ewart William Frederick Jinman
Ewart William Frederick Jinman
Born: 1899 Croydon, Surrey
Died: 1918 Near Douai, France
Father
Percy William Jinman 1862-1922
Mother
Constance Helen Wheeler 1861-
Siblings
Mildred F.C. Jinman 1888-
Reginald Percy Jinman 1892-
Nelson F. Jinman 1894-
Gladys E. Jinman 1902-
Ewart William Frederick Jinman was born at Woodside, Croydon in Surrey in 1899, the son of Percy William Jinman and his wife née Constance Helen Wheeler.

Neither parent originated in Croydon : his father was born at Eastbourne in Sussex and his mother at Romsey in Hampshire. They were married in 1866 at Atcham in Shropshire. When the Census was taken in 1891 they were living at 29 Alexandra Road in Wimbledon in Surrey, at 15 Inglis Road in Croydon in 1901, and at "Underdale", Lower Addiscombe Road, Croydon in 1911. The father was recorded as being employed a stationer's assistant in the 1891 Census, a traveller in 1901, and a representative to a pencil manufacturer in 1911.

Ewart Jinman had an elder sister Mildred F.C. Jinman (born 1888 in Shepherd's Bush, West Kensington in Middlesex), two elder brothers Reginald Percy Jinman (born 1892 in Wimbledon, working as a clerk in a firm of foreign merchant bankers by 1911) and Nelson F. Jinman (born 1894 in Woodside, working with an insurance company by 1911) and a younger sister Gladys E. Jinman (born in 1902 at Addiscombe in Surrey).

The family home was "Luscor", 2 Barclay Road, Park Lane in Croydon by 1917 when Ewart Jinman joined up for military service. He had been a clerk in civilian life.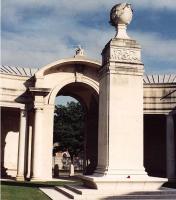 He joined the 14th Battalion London Regiment (London Scottish) on 24 April 1917 at Kingston-on-Thames.

He transferred to the No. 2 Wing of the newly named Royal Air Force at Hastings in Sussex. He was posted on 18 May 1918, presumably to France (1), and promoted to Second Lieutenant on 11 July 1918 (2).

Second Lieutenant Ewart William Frederick Jinman was killed in action while flying near Douai on the Western Front in France. He had served with the Royal Air Force for just a month.

Like his Captain Herbert Ruska Gould who was piloting his plane at the time, he has no known grave.

However his name is included on the Flying Services Memorial at Arras in northern France. The memorial was designed by Sir Edward Lutyens with sculpture by Sir William Dick Reid, both eminent designers, and was unveiled on 31 July 1932. The memorial bears nearly 1000 names.


References
(1) The National Archives : War Office documents WO 339/124562.
(2) London Gazette 30 July 1918 page 9013.

---