A Fortune at Stake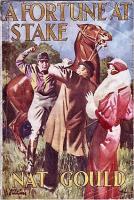 First published by John Long Ltd in 1913.

Reissued in 1916, 1917 and 1922.

The novel was one of the first two books by Nat Gould to be issued at the outset at 6s. (The other was A Gamble for Love.) The innovation was an immediate success (1).

For a review of this book see the Biography page.

The story was made into a film in 1918.


Reference
(1) From the advertisement pages for The Wizard of the Turf among "John Long's New and Forthcoming Books" (page 2) in 1914 at the back of the book published by Long in that year entitled "Bush Songs & Oversea Voices" by A. Safroni-Middleton.









---